GREAT SEDONA HIKES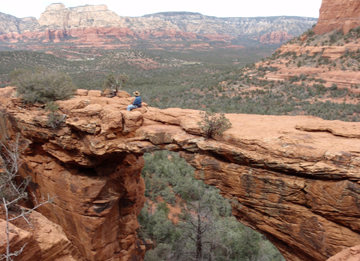 WELCOME TO GREAT SEDONA HIKES!
Hello and welcome to Great Sedona Hikes! Here you'll find free information on hiking in Sedona, Arizona. But you don't need to be a hiker to enjoy the site. It has lots of information about Sedona and beautiful photographs. This website is also a way to post and share your photos of the Sedona area. Sedona is a very special place - the red rocks, the mountains and surrounding canyons are beautiful and we've tried to capture their beauty with these photos and descriptions. The photo above is me sitting on Devil's Bridge enjoying the great view.
I joined a small but active local hiking group and began hiking about 10 years ago. I've hiked most (but not all) of the Sedona hiking trails. The website was started in 2005 to share the hiking photos taken by members of our hiking group. Since then, the website has been expanded in scope so it now, in addition to the hike photos, provides Sedona visitors with broad information on the hikes and information on where to stay, shop and eat while in Sedona.
ITEMS TO ENHANCE YOUR SEDONA VISIT AND EXPERIENCE
You are going to have a wonderful time while visiting Sedona! The close proximity of the hiking trails and the existence of Sedona's vortexes make hiking among the red rocks an experience you won't forget. It is very important to have up-to-date information on the hiking trails. You may want to consider our Great Sedona Hikes Revised Second Edition hiking guide to help you find the perfect trail. We updated it again in May 2013 to add two new ways to hike to Devil's Bridge. It's available here. Or perhaps you should consider our Hiking the Vortexes guide to help you find where Sedona's vortexes are located. Hiking the Vortexes is available here.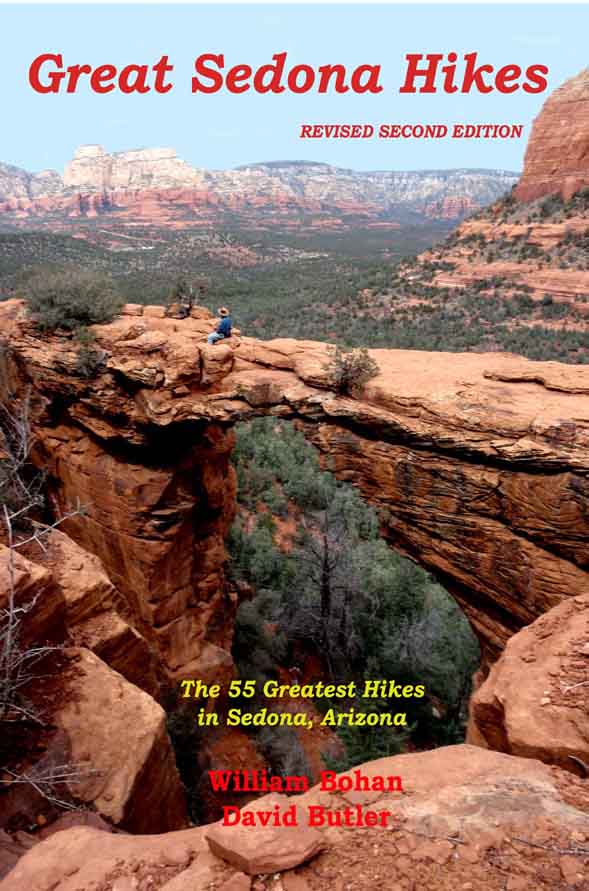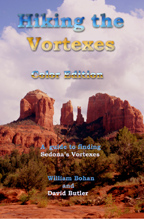 Click here and you'll find information on our hiking books, our vortex books, GPS data files and something new - the Sedona Relocation Guide.
GETTING READY TO HIKE
OK, enough of the sales pitch. Let's go for a hike! But before you go hiking, you should stop in to the Sedona-Oak Creek Canyon Chamber of Commerce Visitor Center or the Red Rock Ranger Station Visitor Center for more information on a particular hike and to obtain the latest information on road and trail conditions. The Sedona Chamber of Commerce Visitor Center is located in Uptown Sedona at the corner of Forest Road and State Route 89A (at GPS coordinates: 34° 52.119' N; 111° 45.702' W). The Forest Service Visitor Center is located on State Route 179, 6 miles north of I-17 or about 2 miles south of the Village of Oak Creek (at GPS coordinates 34° 45.452' N; 111° 45.855' W).
You'll need a Red Rock Pass or equivalent to park at many trailheads on the National Forest for your hike. Click here if you'd like to see where Recreation Passes (i.e. Red Rock Passes) are now required and where there are some special fee areas (note: this is a 3.3 MB file so it may take a few moments to download).
The Forest Service and our hiking group cannot stress enough that you be prepared before you begin hiking, even for a short day hike. The humidity is very low here and you need to take plenty of water to avoid dehydration, particularly in the summer. Sunscreen, a hat, compass, maps or a portable GPS, a charged cell phone (although many trails do not have cell phone coverage) and good hiking boots are among the recommended items you should have with you. And you need to let someone know where you are hiking and when they should expect you back. Here's a page with the equipment you'll need for a successful hike. The weather conditions can play a major role in your hike, so here's a link to the local Sedona weather forecast for the next week. Finally, be sure you stay on the trail and are off the trail by sunset because hiking back in the darkness will likely get you lost, perhaps injured and in need of rescue. Here are some stories of what can happen to hikers who leave the trail.
ORGANIZATION OF THE WEBSITE
I've tried to keep the website simple - to focus on the hiking information rather than have a lot of fancy graphics. The hikes are organized by level of difficulty (EASY, MODERATE, and HARD HIKES ), based on ratings determined by David Butler and myself in our hiking guide, "Great Sedona Hikes Revised Second Edition" and assessment by our hiking group. If you are unsure what level of hike you are capable of, start out with the EASY hikes until you are sure you are up for something more demanding.
An ALPHABETICAL LIST of all the hikes on the website is here.

EASY HIKES are here.

MODERATE HIKES are here.

HARD HIKES are here.

The most recent revisions/additions to the hike descriptions are: Fay Canyon Trail, Devil's Bridge, Cibola, West Fork, Broken Arrow, Llama Trail, Wilson Mountain North, Huckaby, Airport Loop, Submarine Rock, Chimney Rock Loop, Brins Mesa, Long Canyon, Pyramid Vista, Bear Mountain, Chuck Wagon, Woods Canyon, Jim Thompson, Fay Canyon Overlook, Soldier Pass (Arches)

A list of our favorite hikes is here. (I show 10 hikes on the website, but have expanded the list to 12 in the hiking guide)

A list of hikes by distance/level of difficulty is here.

Vortex hikes are listed here (as well as a brief history and explanation of vortexes).

Hikes near/along water are listed here.

Hikes to/near Indian Ruins are listed here.

GPS data files for the hikes are found here.

In addition to the photos from the hikes, we have some exceptional photos taken by our hikers. They are here.
Information on mountain biking is included here. More information on biking and camping is included here.
SEND IN YOUR HIKE PHOTOS
Your photographic contributions to the site are always welcome (see the email address near the bottom of the page). Contributing photographers include: Helen Mueller, Darryl Thompson, David Butler, Lou Camp, Rich Jones , Jon Dorsey, Stephanie Vaughn, Eric Murphy, Sree Remella, Tom Solon, Tammy Tyndall, and Jessica Bohan.
The site also includes interesting and informative pictures of the Sedona area and beyond, courtesy of members of the hiking groups.
OUR RECOMMENDATIONS FOR EATING, LODGING, ETC.
I receive many requests for information on where to eat, where to stay, what to do, etc. while in Sedona. As a result, I have added a page of links for information on the Sedona area; places to enjoy a bite to eat or some liquid refreshments, and some very nice and affordable places to stay. We've tried these places ourselves and we don't receive any compensation from them, FYI. So if you are interested on where we refer our friends, be sure to check out the links

If you have questions about Sedona go to Sedona FAQs for more detailed information on the weather, location, what to do (besides hiking), etc. in Sedona.

And if you like what you find on the website and would like to make a donation to help maintain the website please click the "Donate" button below. Any amount is greatly appreciated.

New information is constantly being added and updated. So check back often. If you have comments, suggestions or photos you think might be candidates for the website, or you are in Sedona and would like to join us for a hike, please email me. So enjoy your visit to the website and welcome to Sedona!

William
Great Sedona Hikes: Revised May 20, 2013
Web Page by William Bohan (billbo@greatsedonahikes.com)
send an email with your comments/suggestions/photos to Bill Entire website © copyright 2009 - 2013 by William Bohan Disclaimer: This web site is intended to show some of the beauty of the hiking trails around Sedona, and is not intended to be used as an authoritative hiking guide. Road and trail conditions can and do change, and you are strongly encouraged to get up-to-date hiking information before you set out; the Sedona Chamber of Commerce Visitor's Center in uptown Sedona and the Forest Service Ranger Station located on State Route 179 are excellent sources of information. Hikers are responsible for their own safety (see before you go). The contributors to "Great Sedona Hikes," and everyone associated with it directly or indirectly, disclaim any liability for damages, losses, or injuries that might occur to those using this website.